In the last article, we have seen the best chess books to learn French Defense. Here we will see the best courses to study French Defense from both sides. French Defense has a rich history. The French Defense is named after a match played by correspondence between the cities of London and Paris in 1834. In the 19th century, French Defense was not so popular. These days French Defense is 3rd most popular opening choice against 1.e4.
Following are 4 main variations against French Defense. 
Tarrasch Variation

Exchange Variation

Classical Variation

Advance Variation
If white wants to play safe then white should choose exchange variation in which position remains equal and it becomes very annoying for black to convert into an advantage. If white wants to play aggressively then he should go with Advance Variation. I have recorded a special video on how you can play against Advance Variation. You can watch from here
Advantages of French Defense 
Easy play for black – Black doesn't have any risk in the opening. In most variations, black can equalize easily.
Closed positions – If you like to play close positions more, then you should choose French Defense. 
No new trends – If you choose a Sicilian opening, then you always have to watch new games and check novelties. In the case of French, almost all theories are evolved and there is not a big scope of development. It's a huge advantage for beginner players. 
Disadvantages of French Defense
No fight for winning advantage in the opening – It's always difficult to get an advantage in the opening. If you play Sicilian or any other dynamic variation, then you will get a very complex position, and hence winning chances get increased. 
Exchange Variation – Exchange Variation is completely equal and for the whole game it gives a white small advantage. In case of a force win situation, It gets very frustrating to win the game.
Now let's see the 4 best chess courses to learn French Defense. These courses will help you to understand every plan and variation. Especially Anish Giri course is most famous in French Defense. You can consider it to buy if you want to prepare everything in French Defense. 
4 best course to learn French Defense
As the name says it's a lifetime repertoire in French Defense for black. The author Anish Giri is world-class and one of the most famous chess players in the world. This course provides you high quality 11.5 hours of video content and 400 trainable variations with chessable move trainer technology. Anish suggested Winawer variation against 3rd move Nc3. Winawer is a very sharp and fully tactical variation. You can check course content here on chessable.
"I think this repertoire is as bullet-proof as I could make it. And, I certainly stand by everything I've said and written here." – GM Anish Giri
Get Flat 45% Off on Modern Chess!
Use code NIKHIL45 at checkout to get a 45% discount on Modern Chess Courses. Don't miss out on this exciting offer!
Shop Now
Who should purchase this course?
This course is recommended for 1600 and above chess players up to Grandmasters. If you are a beginner then I will recommend you to go with Mikhail Marin French Defense course. If you are still not sure then you check the free version of the same course from here.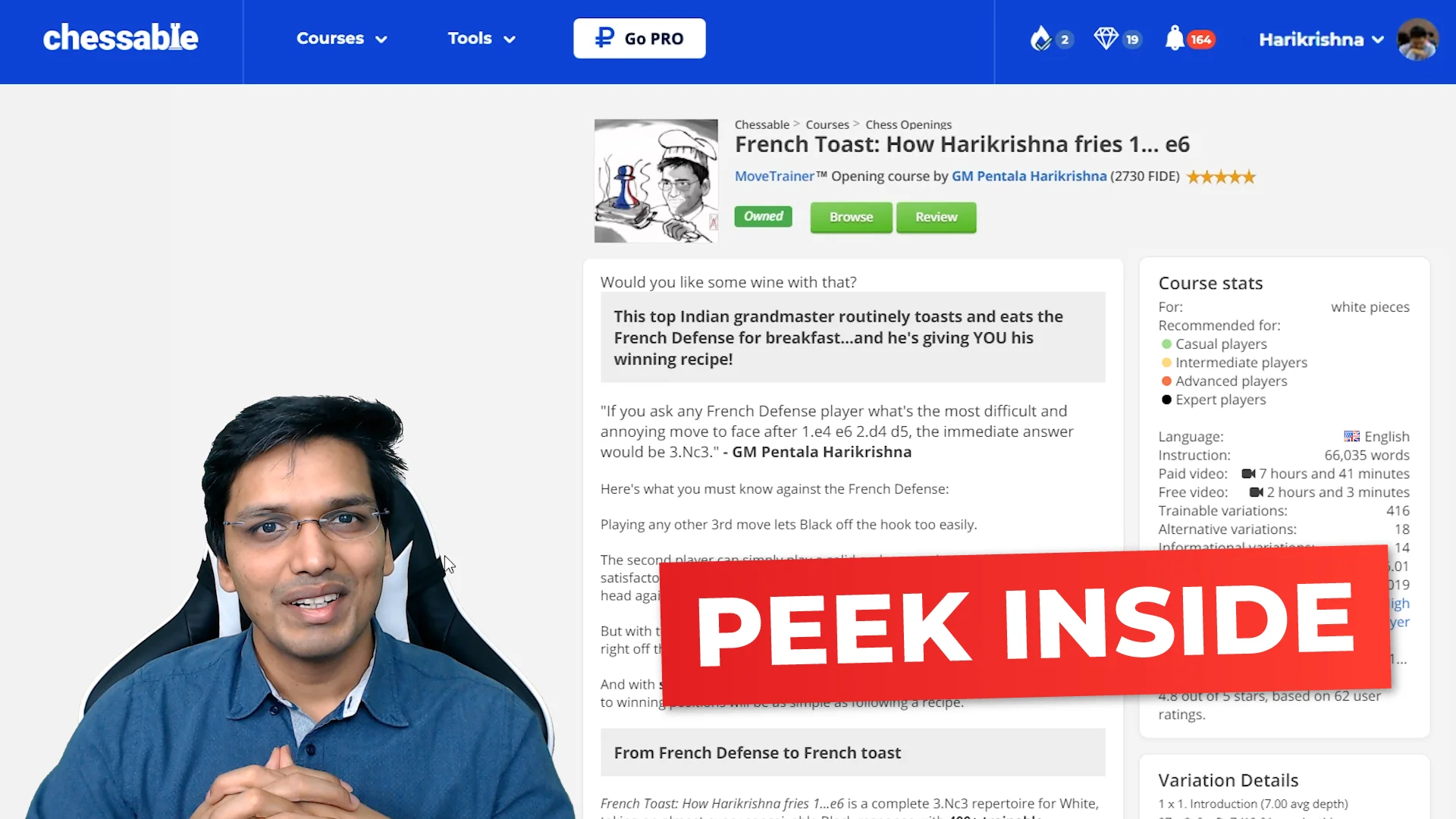 Super GM Pentala Harikrishna explained how easy it is to defeat black in French Defense. He is playing French for the last 2 decade and have tremendous experience. In this course, he suggested a 3.Nc3 move. From the White side, he scored impressive wins against top 100 players like Richard Rapport, Anish Giri, and Fabiano Caruana…using the exact lines from this repertoire.
This course includes 400 trainable variations and 7+ hours of video. This course is perfect for everyone who wants to prepare against French Defense. If you are unrated then you can first watch free youtube videos on the same opening and then only purchase this course. 
We have already listed Anish Giri course in this article. Anish course is a complete roadmap to play French Defense. The main drawback is that the course is not beginner-friendly. Most of the openings are very difficult to understand. Due to this, Mihail Marin course is excellent for beginners and intermediate players. He suggested a practical guide to play French Defense. Mihail Marin is a very famous chess coach and content creator. He has published various books, courses, articles, etc. 
Get Flat 45% Off on Modern Chess!
Use code NIKHIL45 at checkout to get a 45% discount on Modern Chess Courses. Don't miss out on this exciting offer!
Shop Now
This course is perfect for beginner players. Once you finish this course and apply what you learn, you will be a relative expert at the French Defense. This course is available on skillshare. Skillshare is a platform where you can learn different types of courses by paying annual subscriptions. I have also published 2 courses on skillshare and there are more than 15 chess courses available for beginners and intermediate players. Here are a few courses you can check out (You will also get 1-month free skillshare account if you sign up with this link)
These are the top 4 courses to learn French Defense. I know there are many courses available but I thought these 4 are enough for any player in the world. If you think I missed some important courses then comment below, I will try to add those courses also. Here are some useful articles, course links on french defense which you can read and watch.